Are Electric Scooters Legal or Illegal in the UK? Full Guide [Updated 2022]

Are Electric Scooters Legal or Illegal in the UK? Full Guide [Updated 2022]
Electric scooters are very popular in the UK and across the world. Electric scooters bring great joy to the lives of millions worldwide and some say that they could transform the future of travelling as we know it, however, what are the legalities around using them? We will answer your frequently asked questions regarding the rules and regulations surrounding electric scooters right now!
Are Electric Scooters Legal in the UK?
Riding and owning an electric scooter in the UK is perfectly legal, however, there are a range of restrictions in place with regards to how and where they can be used.
What are the Current UK Electric Scooter Laws?
If you own an electric scooter, you are permitted to ride it on private land only, with the landowner's permission. This is because, in the UK, electric scooters are classed as motor vehicles under the Road Traffic Act 1988 and as such, they are subject to the rules of motor vehicles to ensure that they are used safely. This means that riders will need to have insurance, a driving licence, number plates and helmets.
Why are Electric Scooters Illegal in the UK?
In short, electric scooters are not illegal in the UK and you can buy, sell and own one perfectly legally.
Electric scooters are classed as powered transporters and are treated the same way as motor vehicles when it comes to rules and regulations, which means places you could ride them like pavements and cycle paths are forbidden to ride upon. It is not illegal to ride electric scooters in the UK on private land, however, it is illegal to use them on public land.
You can only use an electric scooter in public if it is rented as part of a trial run scheme.
Can you be prosecuted or fined for riding an e-scooter?
Yes, you can be prosecuted and fined for illegally using an electric scooter. The Met Police say that they will issue a fine of £50 for riding an electric scooter on the footpath and £100, along with six driving licence penalty points for using a mobile phone whilst riding or riding through a red light.
Riding an electric scooter without the correct licence or insurance could leave you facing a Fixed Penalty Notice. You could be charged with a £300 fine and six penalty points on your licence for not insuring your electric scooter, along with a fine of up to £100 and up to three to six penalty points for riding without the correct licence.
The following penalties could also apply if you are caught guilty of the offences below.
Riding on the pavement: Fixed penalty notice and a potential £50 fine
Using a mobile phone whilst riding: £100 and six penalty points
Riding through a red light: Fixed penalty notice, £100 fine and possible penalty points
Drunk driving: Just as you would be prosecuted for driving a car under the influence of alcohol, you could face court imposed fines, a driving ban or even imprisonment
Riding an electric scooter in an antisocial manner: You could have your electric scooter seized under section 59 of the Police Reform Act
To learn more about the laws and regulations surrounding electric scooters, and the government's current guidance, visit the Department for Transport link below.
https://www.gov.uk/government/publications/e-scooter-trials-guidance-for-local-areas-and-rental-operators/e-scooter-trials-guidance-for-local-areas-and-rental-operators
Do you need a driver's license for an electric scooter?
Yes, to ride an electric scooter, you will need a category Q entitlement on your driving licence. Full/provisional UK driving licences with categories AM, A or B include category Q permissions.
If I have a provisional licence, will I need to apply L plates to my electric scooter?
No, you do not need to apply L plates to your electric scooter if you have a provisional licence.
Do you need insurance for an electric scooter?
Yes, you do need insurance. If you are renting, however, this will be provided by your electric scooter rental operator.

Personal use electric scooters are not currently road legal, this means that you are unable to insure personal electric scooters which you have purchased.
What are the risks if I use my own e-scooter on public land?
Riding your own electric scooter on public land is illegal, period. Current government legislation states that the potential penalties and fines will depend on the nature and severity of the offence, however, sentences can range from fines and penalty points to disqualification from driving altogether.
Are Electric Scooters Dangerous?
Electric scooters can be dangerous if they are not used correctly or safely. As the popularity of electric scooters has increased over time, there have been more crashes involving these motors. In the first six months of 2021, there were almost as many accidents reported within the whole of 2020.

When it comes to riding electric scooters, safety and sensible riding is paramount. By following the current rules and regulations, along with wearing the appropriate safety equipment and being mindful of your speed and surroundings at all times will ensure that you have an amazing riding experience whilst keeping yourself and others safe.
Always wear protective gear: helmet, gloves and knee pads
Appropriate gripped footwear is advised
Keep both hands on the handlebars at all times
Don't use a mobile while riding
Always watch the surface terrain ahead of you
Parents should always supervise while your child is riding their electric scooter on private land
What are the safety concerns of e-scooters?
Not only are accidents involving e-scooters on the rise, but many of these are single vehicle crashes. According to a report from the Department of Transport regarding collisions and casualties related to e-scooters for the year ending June 2021, there were 931 casualties in accidents involving e-scooters and 732 of these were e-scooter users. There were also three fatalities (again, all of which were e-scooter riders).
How do I ride an e-scooter legally?
There are various cities and towns across the UK which are offering e-scooter trials. These trials have been put in place to reduce the long-term effect of air pollution caused by motor vehicles, mainly within urban areas. To rent an electric scooter as part of the trials, you will need to download an app and register with an operator.
Electric scooter hire schemes
Where can you rent an electric scooter?
Currently electric scooter trials are currently taking place in the following areas: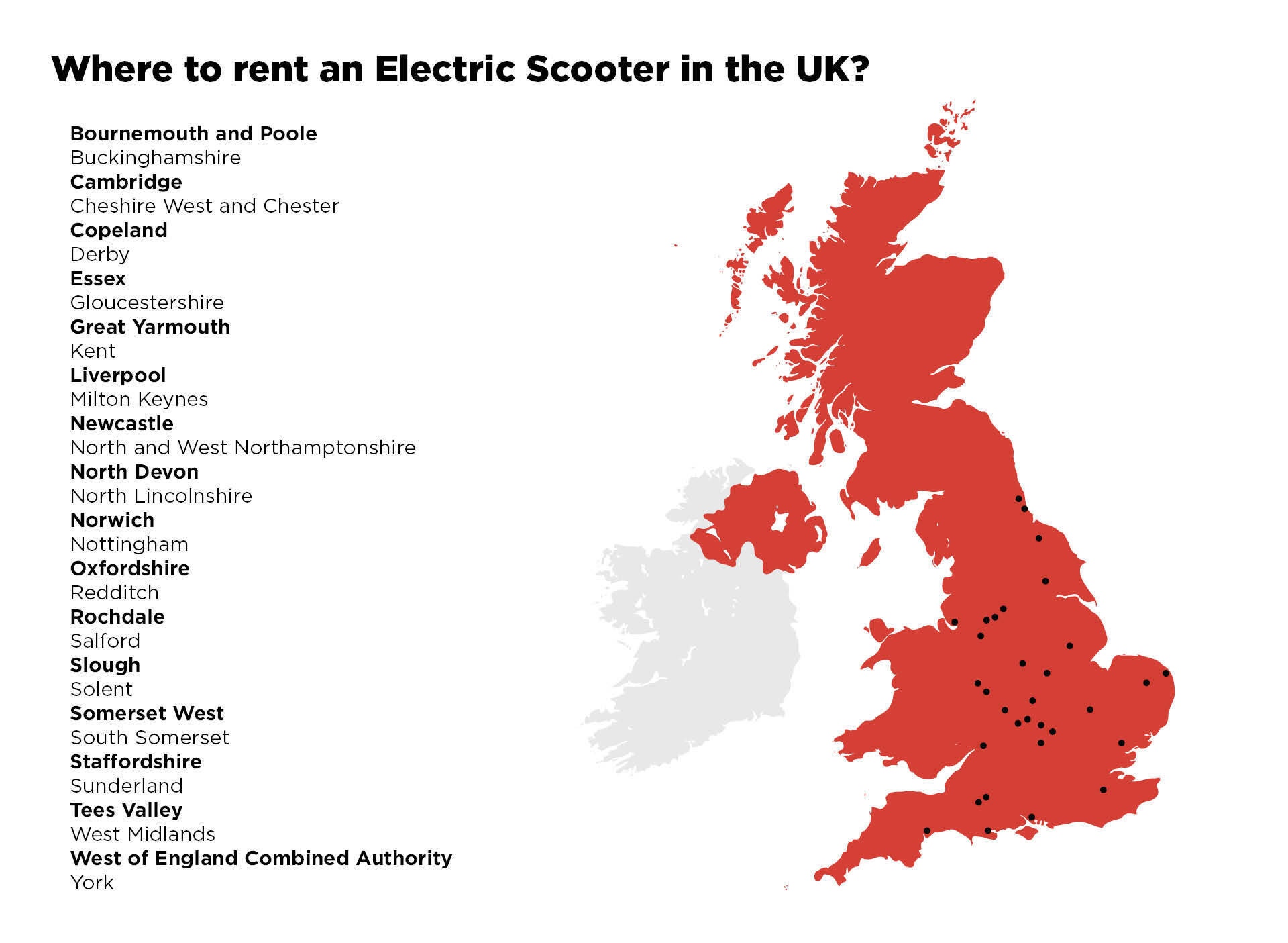 How are trial outcomes being measured?
The electric scooter trials are being measured in various ways, some of which includes taking a look at usage, availability of electric scooters as well as the user demographic, alongside other measures.
Can I use my own e-scooter in a trial area?
No you cannot use your own e-scooter in a trial area.
Does the Government plan to change the law?
The Government is currently considering legalising electric scooters on UK roads. This consideration is a part of its strategy to further transform the UK as a global leader in transport innovation. As such, the Government is committed to further testing and trials to determine whether electric scooters will be a safe, efficient and eco-friendly way of travelling.
If electric scooter laws change, what and when can we expect them to be?
If electric scooters were to be made legal for road use, there's a good chance that a lot of the regulations put in place would reflect current laws surrounding the use of electric scooters as well as the laws involving the current trial areas. We'd expect the rules to state that riders must be at least 18 years old to ride an electric scooter, specifically designed to be used by one person only. You will not be able to use a mobile phone whilst riding, nor whilst you are drunk or intoxicated, as you would expect.

Electric scooters will most likely reach a maximum speed of around 15mph, fitted with the appropriate safety brakes, lights and reflectors to ensure the safety of the rider as well as others in the surrounding area. It is also fair to assume that electric scooters will need to be used in cycle lanes, along with cyclists.
Should e-scooters be made legal? A view from a leading e-scooter manufacturer
Ever since the launch of the trial electric scooters across the UK, shorter car journeys along with CO2 emissions emitting from vehicles has reduced quite heavily, as predicted. If we want to move to a greener and cleaner environment, we must consider making electric scooters legal, however, taking the appropriate precautions to ensure upmost safety of riders and others in the surrounding area of these motors.