TODDLER SCOOTER BUYING GUIDE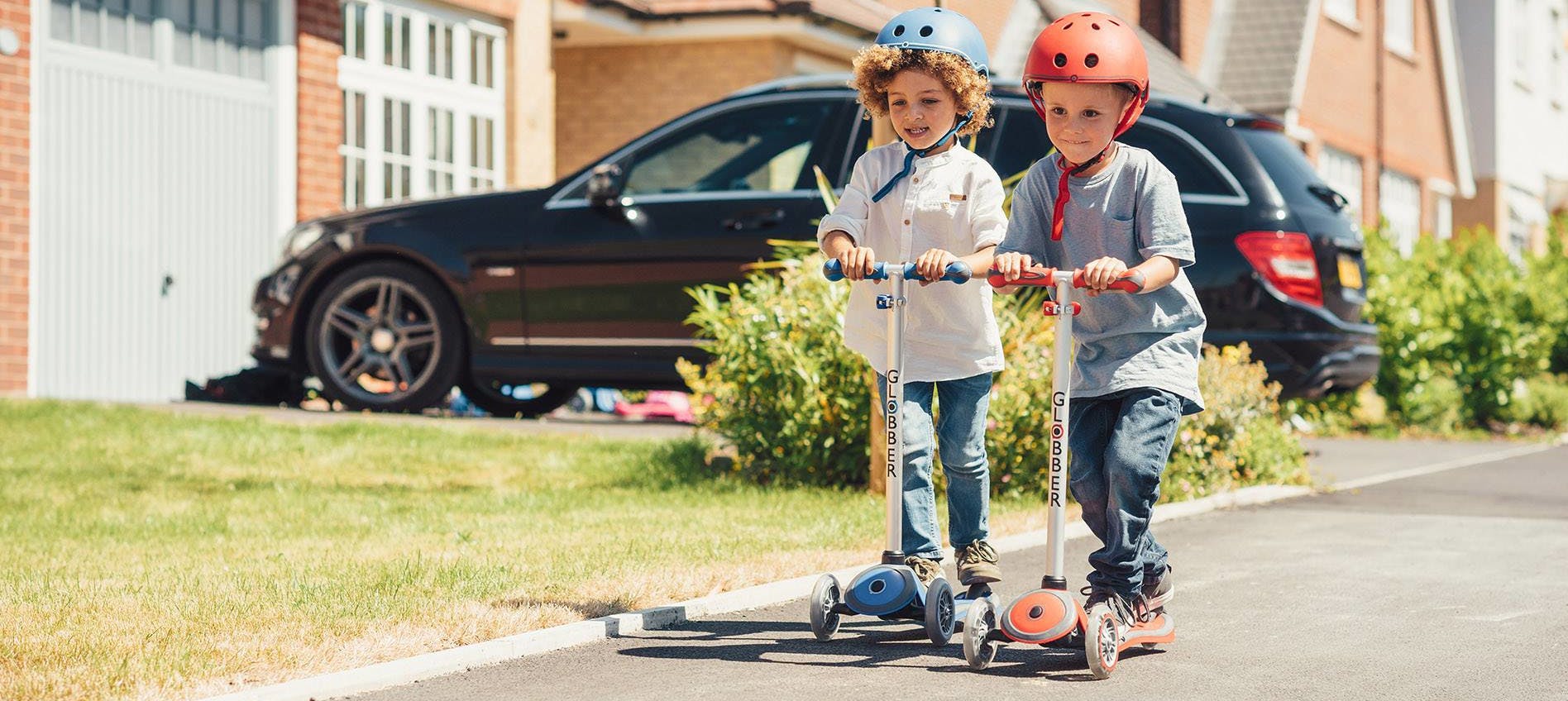 HOW TO CHOOSE THE BEST SCOOTER FOR YOUR TODDLER
CAN TODDLERS RIDE SCOOTERS?
Broadly speaking, any toddler that can stand, balance on their two feet and walk, can start learning how to ride a scooter. Riding a scooter is a great way for your child to learn balance and coordination skills. Most toddler scooters have two front wheels and one back wheel, as well as a lean-to-steer mechanism. Scooters like this present an easy and safe way for little ones to start learning.
ARE TODDLER SCOOTERS SAFE?
As a retailer, we ensure that all scooters listed on this site have safety at the forefront of production. Most toddler scooters are fitted with fast-action rear brakes that are easy to operate, allowing children to control their speed and steadily reach a stop.
The three-wheel and lean-to-steer designs typically make toddler scooters much more stable than normal scooters. Therefore, the risk of falling is much lower. Toddler scooters are mostly built from lightweight materials such as plastic and aluminium so that they are easier to manoeuvre. This type of build reduces the risk of injury in case of a fall. However, children are prone to falls, bumps and scrapes, so we advise you to purchase a helmet and some pads.
It's good to promote healthy, active hobbies to kids, and scooting offers exactly that. Getting on a scooter encourages kids to develop their co-ordination and motor skills from an early age, as well as helping with their balance. It's also been said that scooting helps grow children's independence and confidence, by allowing them to get out and learn new things for themselves.
SCOOTERS FOR KIDS AGED 1-3 YEARS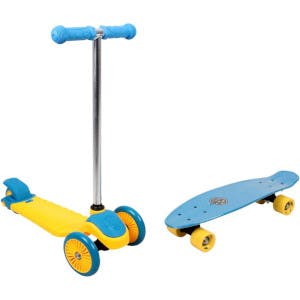 For the younger toddler, Maui and Sons scooter have created a 3-wheeled scooter which is perfect for your son or daughter. Easily disassembled which makes it nice and convenient for storing away or taking on trips. Furthermore, safety is essential and with rubber grips and a flex brake on the back wheel, your little ones can go crazy without risk.
SCOOTERS FOR KIDS AGED 3+ YEARS
From the age of 3 years, the majority of recommended scooters are based around the same three wheel, lean to steer design, with each brand and model having slightly different features. Two of the more basic models in this range are the Y-Volution Y Glider Deluxe, and the Globber Starlight.
Further up the range, the Globber My Free series has different models that include features such as an adjustable handlebar, a folding mechanism for easy transport, a safe learning wheel locking system and light up wheels!
These scooters will usually be suitable for kids aged 3-5, especially if they feature a height-adjustable handlebar.
SCOOTERS FOR KIDS AGED 5+ YEARS
For those who have outgrown their standard size toddler scooters, there's the Y-Volution Y Glider XL Scooter and Globber My Free Primo Plus. These are slightly upscaled models with a higher maximum rider weight, designed for an older toddler. The Globber My Free Plus is suitable for kids up to the age of 6, whereas the Y-Volution XL is slightly bigger and will be suitable up until about 8 years of age.
If you have any more questions, give us a call on 0121 501 1111 or get in touch through sales@skatehut.co.uk!
* All size guide advice is based on average sizes only, some cases may differ.