COMMUTER SCOOTER BUYING GUIDE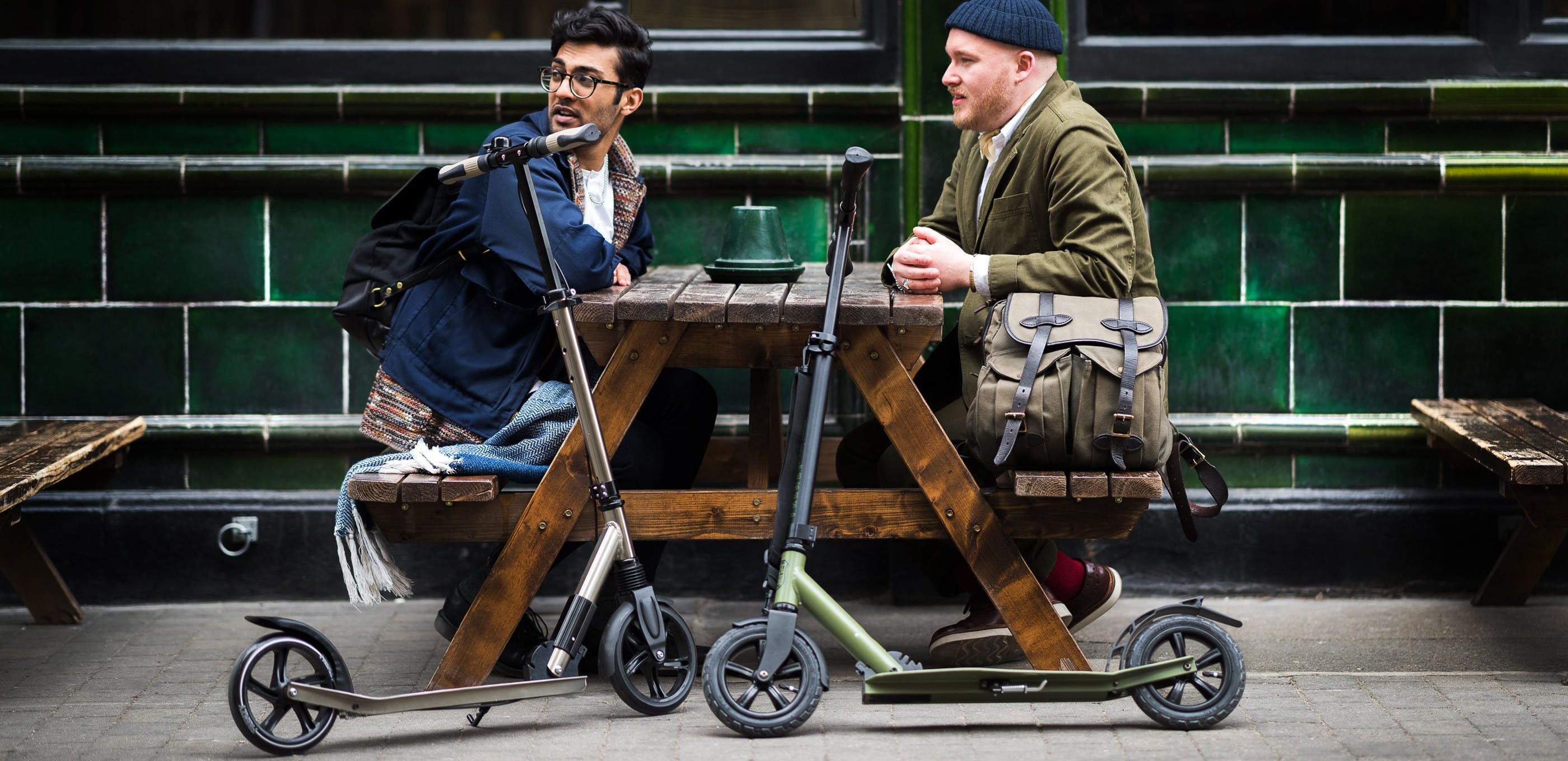 HOW TO CHOOSE YOUR COMMUTER SCOOTER
WHAT IS A COMMUTER SCOOTER?
Also known as an Adult Scooter, Travel Scooter, e-scooter or Electric Scooter, Commuter Scooters are scooters that are purpose-built for commuting. There are two different types - push scooters and electric scooters, however, both have the same purpose, which is to comfortably navigate urban environments and get from A to B quickly and efficiently.
WHY SHOULD I BUY A COMMUTER SCOOTER?
'Faster than walking, less sweaty than cycling'. Commuter scooters offer the perfect alternative to long walks, busy public transport or traffic-packed car journeys.
We've picked out the 5 main benefits of using a commuter scooter:
Time - Use a scooter to cover the entire distance of your commute, or minimise the overall time of it by scooting to and from the train station or bus stop. Commuter scooters are much quicker than walking, can bypass traffic and offer plenty of opportunity for shortcuts.
Money - Avoid paying car parking fees or train and bus fares by scooting to work!
Accessibility - Virtually all commuter scooters are designed with folding mechanisms and collapsible or adjustable handlebars, so that they can easily be carried onboard public transport and stored at work. They are also often designed with weight in mind, so that they are not a burden to carry when needs be!
Exercise - Push scooters provide an element of light exercise, ideal for getting you going in the morning and not be too strenuous on the way home. Not to mention, they're fun!
Environmental - Both push and electric scooters offer a greener alternative to traditional commuter methods.
PUSH SCOOTERS VS ELECTRIC SCOOTERS
This is the first question which must be answered when purchasing a commuter scooter. Naturally, electric scooters are more expensive than push scooters, however, require much less effort to ride and enable you to cover larger distances.
Currently it's illegal to ride privately-owned electric scooters on public roads. However, electric scooters are still fun to ride on private lands. So if you are commuting on public roads or pavements, you'll need to use a non-electric scooter. As a 'last-mile' option off the train or bus, a push scooter is the scooter for you.
PICKING A SCOOTER FOR YOUR JOURNEY
There are a number of other factors to consider when choosing a commuter scooter that suits your needs.
Wheel Size - Differences in wheel size has a knock-on effect on top speed, acceleration and the effort of scooting. Bigger wheels are generally preferred for commuting, as they get further faster and offer a more comfortable ride. However, as wheels are not collapsible, they do add to the overall size of the scooter. Smaller wheels are more portable and easier to maneuver, but do sacrifice speed & ride smoothness.
Compatible - Some scooters are more compactable than others. Most simply fold in half, whilst others offer collapsible handlebars and frames. The overall compactable size is something to consider for carrying your scooter around and storing it at the office or home.
Weight - If you will need to carry your scooter on public transport, or between floors, then weight is an important factor to consider. Electric scooters weigh significantly more than push scooters. Make sure you are comfortable carrying the weight of your scooter before purchasing!
Size - Almost all commuter scooters feature height adjustable handlebars, with the standard maximum height ranging between 95-110cm. Different brands and models of scooter will also have varying lengths and widths of footplate. For maximum efficiency and comfort when riding, ensure your scooter is suited to your body proportions.
HANDS ON WITH FRENZY SCOOTER!
Check out influencer @SandyMakesSense YouTube video from when she tried out one of our Frenzy Adult Scooters!