SKATEBOARD DECK BUYING GUIDE

WHAT IS THE BEST DECK SIZE FOR YOU?
Welcome to the SkateHut deck size guide! Whether you are buying a skateboard for a child, a friend, or your awesome self, you've come to the right place. At SkateHut we pride ourselves on providing the best range of skateboard decks for everyone from beginners to all-out skilled professionals.
Choosing a skateboard deck size is no easy task, especially if you're building your own custom skateboard. There's so much choice! So we've compiled all the important details into a simple guide. Read here how to choose your skateboard deck.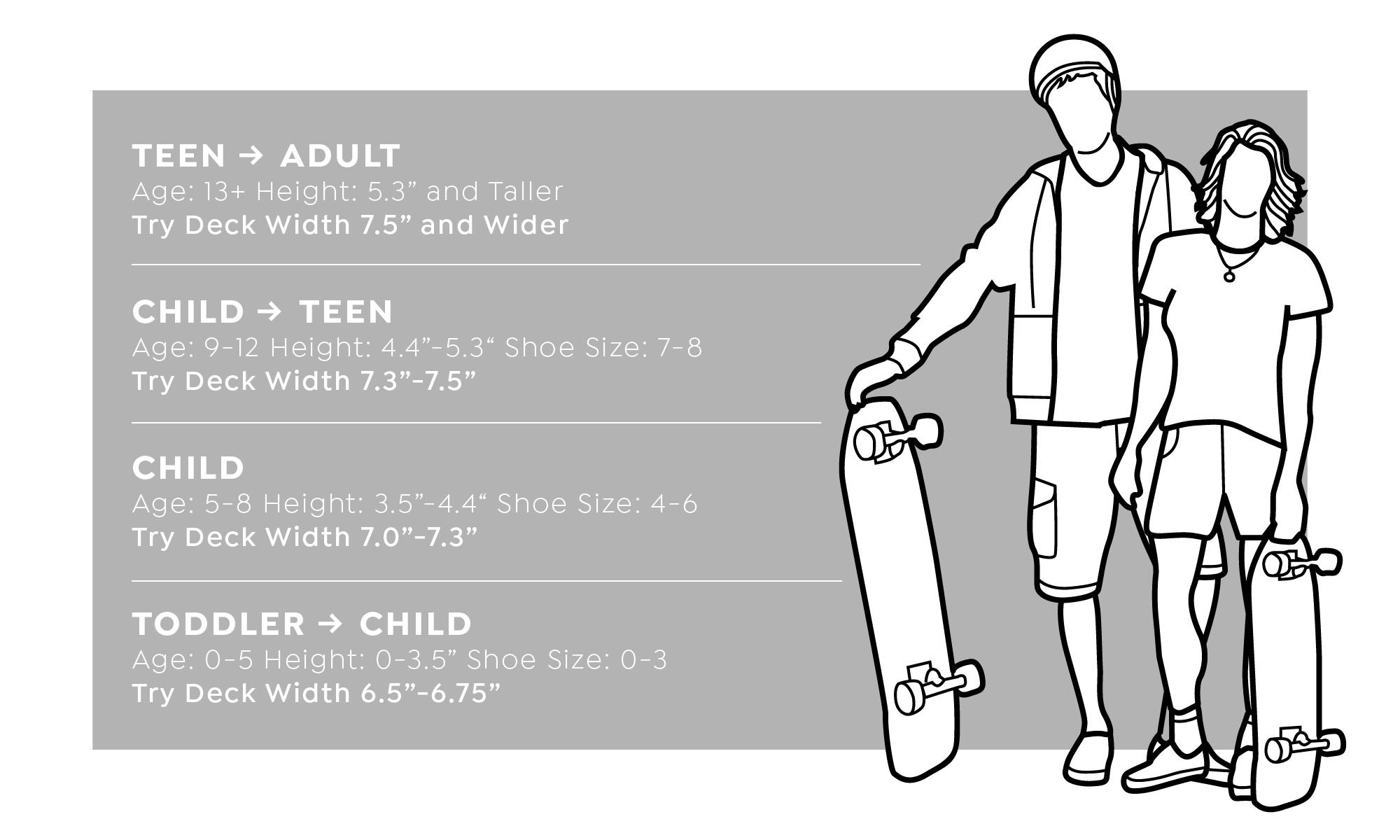 This is our generic size guide chart. Ultimately it comes down to your own preference, comfort and ability. However this chart will help you get started. Some people go by shoe size, age or height.
We advise our in-store customers to stand next to the board and see where the tip of measures up to them. A comfortable size board should measure up hip-height where the nose of the deck is. This way you should be able to balance well without spreading your feet too far apart.
Choosing the width of your skateboard is one of the most important decisions you can make when considering your deck. It will be incredibly important considering what you'll be using your skateboard for: cruising, street skating or park skating. You could choose based on shoe size and height or you could get down to a trusted skate shop and stand on a bunch of boards to see what feels right.
SIZES FOR KIDS AND BEGINNERS
For kids aged 9 and below, we generally recommend a board 7.3 - 7.5 inches wide and anywhere under 30 inches long. You can find these boards in our range of mini decks. Built specifically for the younger skater, these boards are much easier to flip and pop than full-size boards.
---
Most skateboards range between 7.5 and 8.4 inches the most popular being 8 inches. At SkateHut you can shop for skateboard decks with a width size of anywhere between a 7.5 inches and 10.5 inches. These can be bought as single decks, complete skateboards or can be custom built with our Custom Skateboard Builder.
---
The skateboard deck length is not as much of an important factor. Skateboard length can be determined by measuring from the tip of the nose to the tail. Typically skateboard lengths fall between 28 and 33 inches, 71 - 84 cm long. Generally anything under a 31 inch deck will classed as a mini skateboard.

The concave is the curvature of the deck width as you look at it straight on. There are three main types of deck concave: Mellow, Medium and Steep.
MELLOW CONCAVE BOARDS
Mellow concave boards can provide a more stable or comfortable feel under your feet when standing motionless on the deck. However the flatter the concave, the harder it will be to perform flip tricks.
MEDIUM CONCAVE BOARDS
Standard or medium concave boards are good for beginners. If you don't know what type of concave to go for, try a medium concave, see how it suits you.
STEEP CONCAVE BOARDS
Steep or high concave boards are raised more at the edge. These boards are great for mastering and performing flips and ollies.
REMEBER THIS IF NOTHING ELSE...
Different styles of skating match different board sizes and shapes, therefore it's important to get a board that fits your style, and most importantly your preference. Each brand offers different shapes and size decks and whilst two boards may be the same size, it doesn't always necessarily mean that they will look or feel the same! So the best advice we can give is to try out different sizes.
* All size guide advice is based on average sizes only, some cases may differ.
Happy skateboard hunting friends! Take a peek at some of our very best deals on decks!