How can you ensure that your BMX is Road Legal and where you can ride it? [GUIDE]
IS A BMX ROAD LEGAL?
Not necessarily, you can legally ride BMX bikes on the road, as long as you have the appropriate lights, reflectors and brakes fitted onto the bike. Most BMX only have one brake and some don't come out of the box with reflectors.
IS IT ILLEGAL TO RIDE A BMX WITHOUR BRAKES?
Yes, it is illegal to ride a BMX Bike without brakes. According to current Government legislation, every pedal cycle is required to be equipped with at least one braking system; you can learn more about this law here: https://www.legislation.gov.uk/uksi/1983/1176/pdfs/uksi_19831176_en.pdf.
Brakes are arguably the most important feature on a Bike and a bike without brakes or with faulty brakes put the rider as well as others in the surrounding area at danger. There are riders out there who have removed their brakes from their bikes. They do this to reduce the overall weight of the bike (only by a fraction), also ensuring that the handles and cables do not get in the way. But it is illegal to ride a bike on the road without two efficient braking systems. Both brakes need to operate independently on both the front and rear wheels. This is to ensure that you can brake sufficiently and swiftly, especially in an emergency to prevent injury to yourself or anyone else around you.
WHY DO BMX BIKES NOT HAVE FRONT BRAKES?
Most of the time, BMX bikes are fitted with only one rear brake. This is because BMXs without front brakes are generally easier to execute sharp maneauvers quite freely. Experienced riders particularly tend to find that front brakes tend to hinder and limit their abilities, rather than help.
IS IT ILLEGAL TO RIDE A BMX WITHOUT REFLECTORS?
When discussing the legality of reflectors, they are only required for night riding (riding between sunset and sunrise). According to Government law, your bike must be fitted with a red rear reflector and amber pedal reflectors; read more about the regulations here: https://www.gov.uk/guidance/the-highway-code/rules-for-cyclists-59-to-82.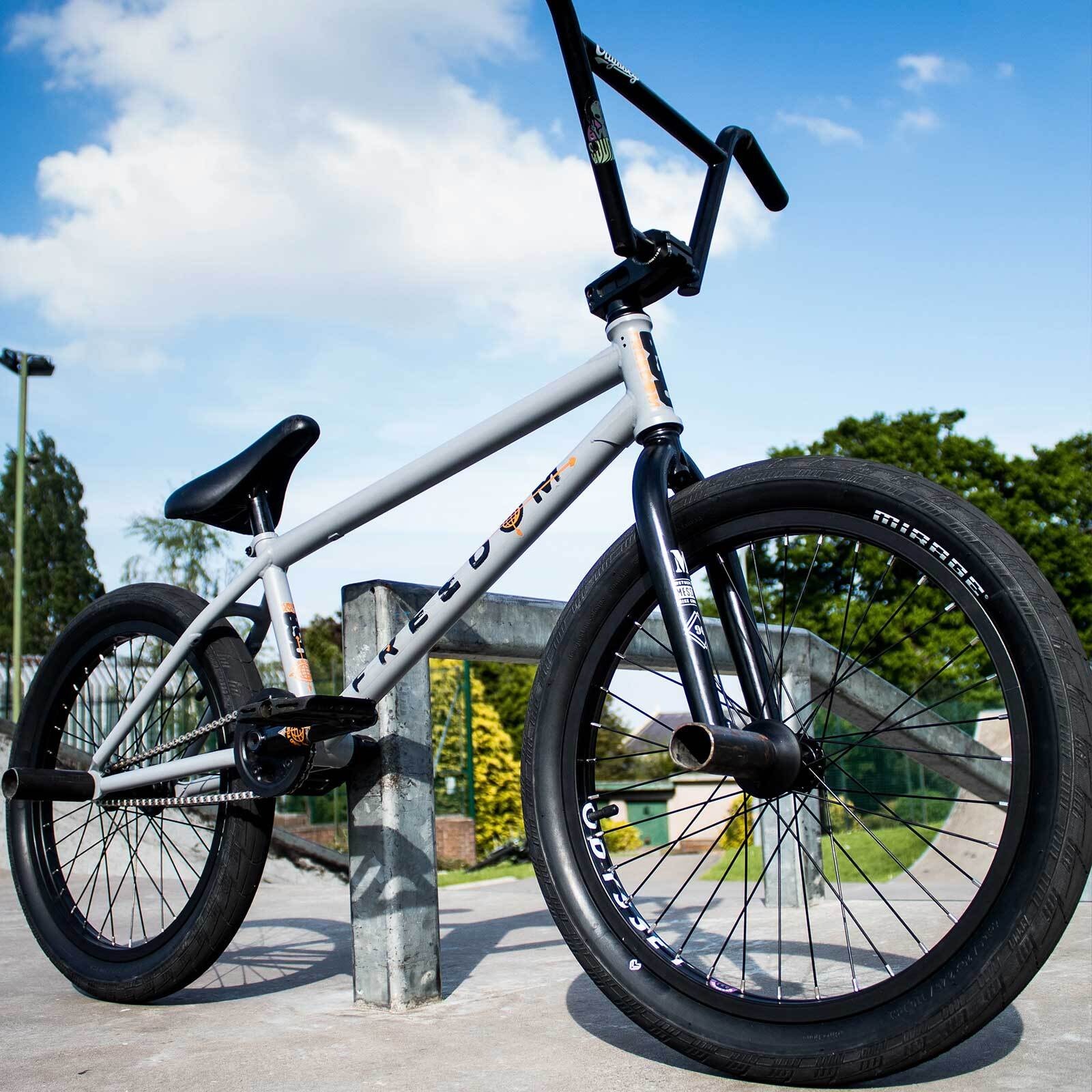 ---
IS IT ILLEGAL TO RIDE A BMX BIKE WITHOUT LIGHTS?
Unlike other road legal vehicles, cyclists are not required to have fitted lights onto their bikes during the daytime when visibility is significantly reduced. We wouldn't, however, recommend cycling during the daytime without lights when it is foggy and visibility has been drastically reduced.
With regards to night riding, however, the rules are a little more strict. It's important to note that when it comes to the legality of the terms 'night' and 'day', it will depend on the sunrise and sunset times of the date on which you are out riding. You cannot argue that it was daytime based on 'how clear or bright it was outdoors' if the time at which you were riding was outside of these hours.
When cycling at night, you must ensure that you have approved front and rear lights which light up clearly and work correctly. You'll need a white light fitted to the front of your bike and a red light fitted to the rear. This is to ensure that other road users can clearly see you and thus, safely overtake you on the road if needed. There's nothing stopping you from using a head-torch for increased visibility, however, this cannot be used to compensate for riding without the appropriate lights.
IS IT LEGAL TO CYCLE ON THE PAVEMENT OR PUBLIC FOOTPATHS?
It is currently illegal to cycle on the pavement. You can read more about this and other cycling laws on the government website here: https://www.gov.uk/guidance/the-highway-code/rules-for-cyclists-59-to-82.

Although it may not be as heavily enforced as some of the other rules and regulations regarding cycling in public, you will still be breaking the law if you cycle on the pavement.
HOW TO UPGRADE YOUR BMX TO MAKE IT ROAD LEGAL
If your bike currently does not meet the legal requirements, do not panic, we've got you covered! We've got a range of BMX lights in stock to ensure your safety when night riding, along with brake lights, brake pads and brake rotors. Have a browse through some of our range below.
CHECK OUT OUR OFFERS!
We have several limited-time only offers live right now! Make the most of them before they expire!

---