80s Themed Roller Skates [Get the Stranger Things look]
We love Stranger Things and are super excited to see what Season Four brings. The hit show has swept the world off its feed and like us, everyone is feeling the 80s vibe! It's for this exact reason that we are throwing back and bringing back the 80s right now. This article is a 2022 guide of the top 80s style roller skates which you can get your hands on right now. Show your love for Stranger Things and share it with the world with a retro pair of vintage skates!

Rookie Fever Quad Roller Skates - White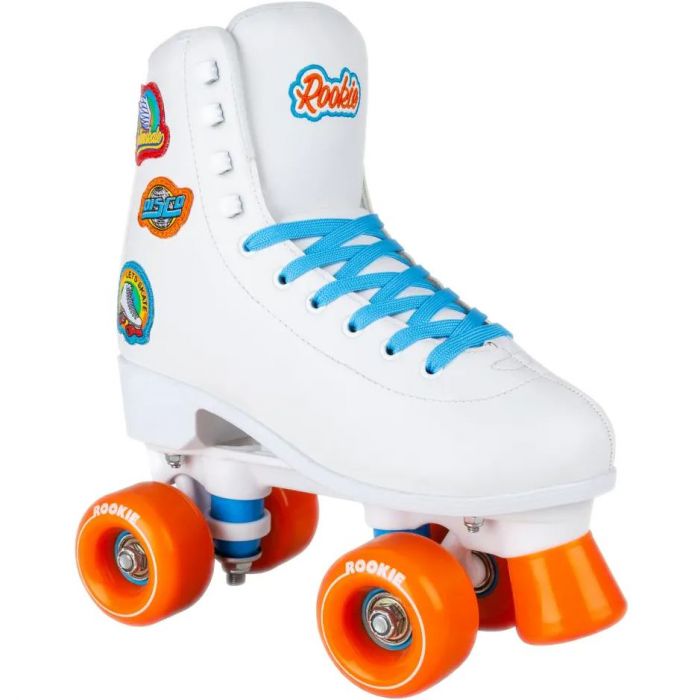 The first pair of skates on our list are the classy but quaint Rookie Fever Quad Skates. If you're after a retro pair, then you will definitely be impressed by this pair. The boot is bright white and this is contrasted with the bright aqua blue laces, along with the blue and orange Rookie logo which sits right on the lip of the skate. This matches the bright orange wheels, which coupled with the laces and logo, really make it stand out. To give these skates even more of an 80s feel, there are three disco custom patches badges which have been sewn to the side of the boot.
Moxi Beach Bunny Quad Roller Skates - Sky Blue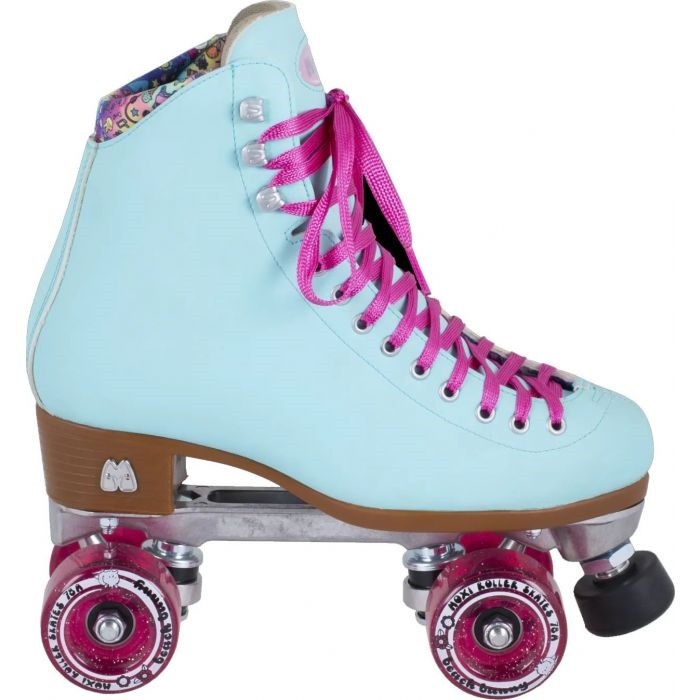 The classic 80's roller skate look has never been more affordable than in the case of the Beach Bunny Quad Skates from Moxi! These skates feature a classic old school high top sky blue boot. The bright purple laces on this pair shine perfectly in the sun, really contrasting against the sky blue deck to give it a forward fashion feel, whilst simultaneously giving it a retro 80s appearance. The purple wheels on this skate will have you rolling about looking very chic. The ankle padding on the boot provides extra comfort and security for when you're cruising down the street or tearing through your favourite skate park. To give this pair even more of a distinct touch, its moisture-wicking Dri-Lex™ liner is printed with a custom pattern that is completely exclusive to Moxi.
SFR Spectra Adjustable Roller Skates - Blue/Red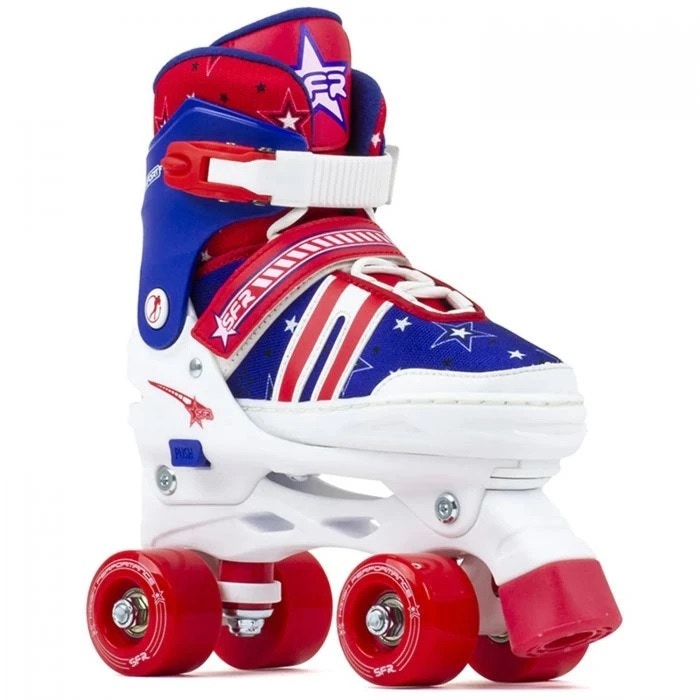 There aren't many roller skates which are more eye-catching than the SFR Spectra Adjustable Roller Skates which come in a Blue/Red/White combination that looks extremely loud, 80s but very stylish. This pair takes your skating experience to another level which allows you to adjust the length as well as the width of the skate, making it especially ideal for kids who are still growing. The bright blue, red and white colours on the boot give them a very aesthetically pleasing look, which, coupled with the red wheels, make them noticeable from a mile off!
Moxi Rainbow Quad Roller Skates - Black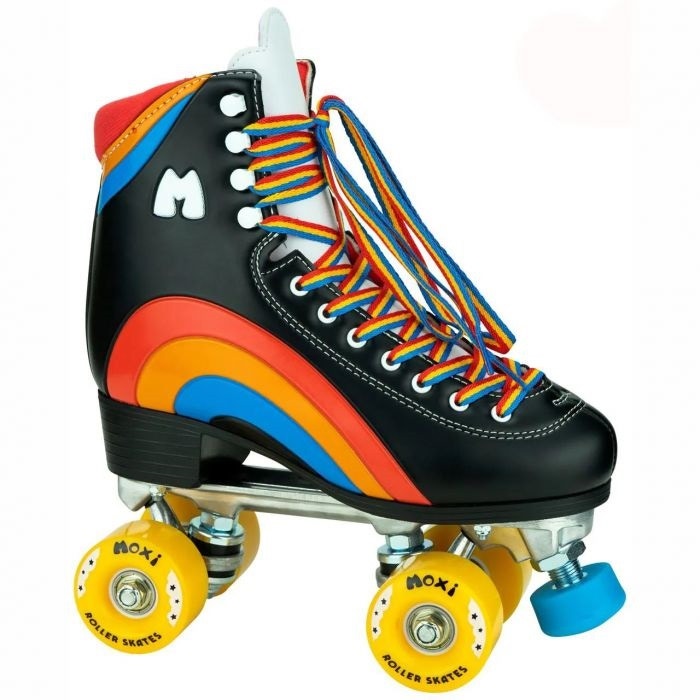 If you are looking for a pair of skates which will go well with most outfits, but you still want to exude the 80s look, then the Moxi Rainbow Roller Skates in Black might be just what you need. The boot itself is black, with a wavy rainbow print on both sides of the boot, as well as by the ankle. This, coupled with the rainbow style laces really stand out against the dark black boot. To further add to this contrast and to top it all off, this pair comes with bright yellow wheels! The Moxi Rainbow Rider Quad Roller Skates have been designed for beginners who are looking for a fun and comfortable outdoor roller skating experience at a fair price! The uppers and padded soft lining allows for extra comfort when you are riding.
Rookie Legacy Quad Roller Skates - Tie Dye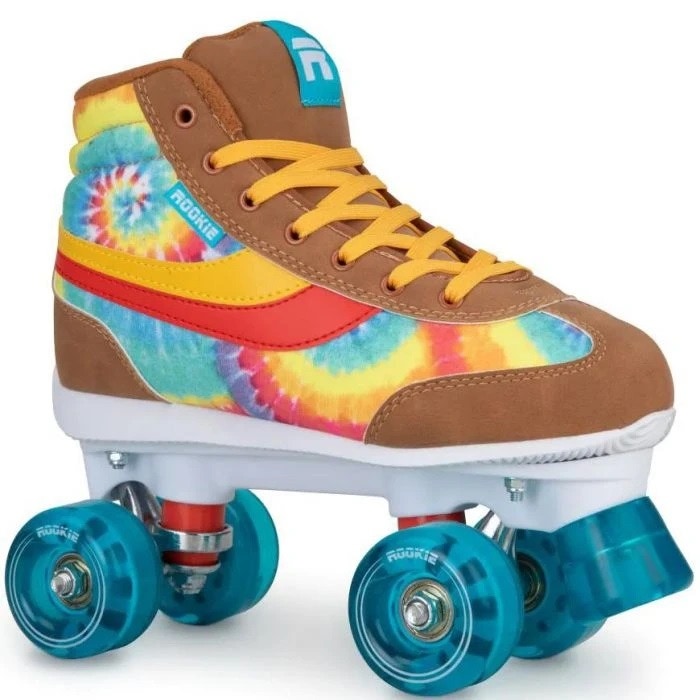 This pair right here screams retro. The tie-dye style brings a very bright and vibrant but old school style which will have you feeling like you are skating through Miami in the 80s.This is complemented by the classic Rookie PVC stripes and yellow laces to match. They're also incredibly comfortable too! The Rookie Legacy skates come with extra padding for supreme comfort and an enjoyable experience. It is particularly suited for beginners who are roller skating for the first time and those who are after a comfortable, enjoyable and relaxing skate. It's worth noting that we recommend that you choose a size smaller than your usual size, so if you are usually a UK size 9, you may want to go for a UK size 8.
Rookie Passion Adjustable Roller Skates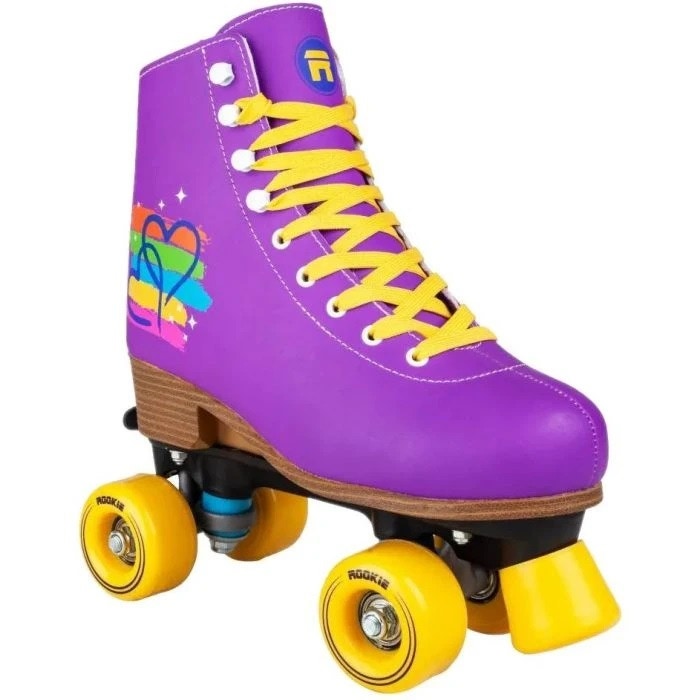 The Rookie Blossom Adjustable Skates offer a strong blend of both purple and yellow. The boot itself is purple, contrasted against bright yellow laces and wheels! This pair offers the best of both worlds; you can enjoy the Artistic style boot whilst also being able to adjust the size of the skate with minimal effort. This is made possible by the unique adjustment system by which it makes adjusting the size of the skates very easy.
Roller Derby Firestar V2 Quad Roller Skates - Pink Camo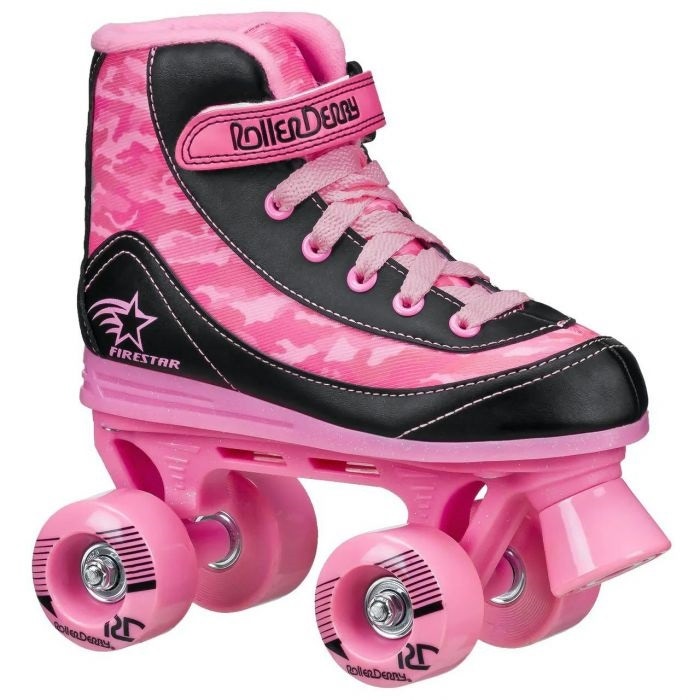 The Roller Derby Firestarter Roller Skates will have you skating with complete flair and style. The pink-on-black boot, together with the pink laces and wheels will have you glowing as you skate from one place to another. The extra padding around the ankle strap allows for an ultra comfortable skating experience which is especially beneficial for children and younger skaters.
Rookie Fab 2.0 Adjustable Quad Skates - Blue/Pink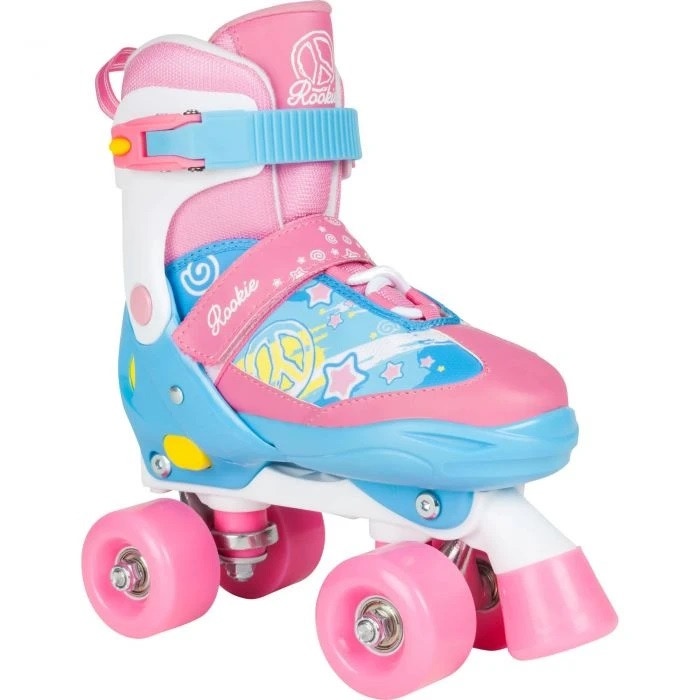 The Rookie Fab 2.0 skates truly are fabulous. The sky blue, pink and white blend gives these skates an irresistibly bright, vibrant look which will have you feeling like you have rolled your way back in time to the prime-time days of skating in the 1980s! They are the type of skates that you would see at your local roller skating disco back in the day. The boot itself is soft and offers super support for natural motions and movements whilst skating, making it an ideal choice for kids, teens and younger riders.
Impala Quad Roller Skates - Harmony Blue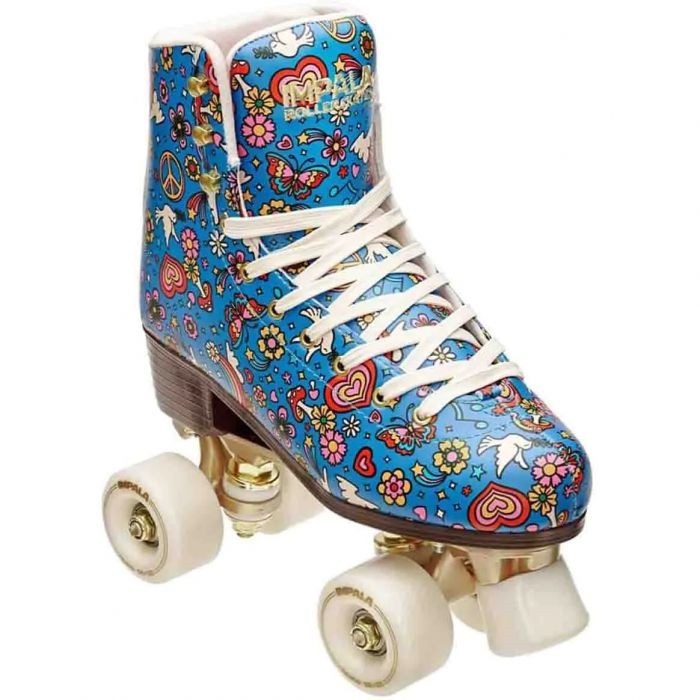 The Impala roller skate is a pair which exudes summer in the 80s. The blue boot with loads of small colourful icons of flowers, hearts and shooting stars takes retro to another level altogether. These skates have been manufactured from the best materials and components on the market, such as aluminium alloy trucks and urethane wheels. The stoppers on this Impala pair allows you to stop swiftly and comfortably, allowing for an undeniably great performance for a great price.
Rio Roller Artist Series Quad Roller Skates - Hattie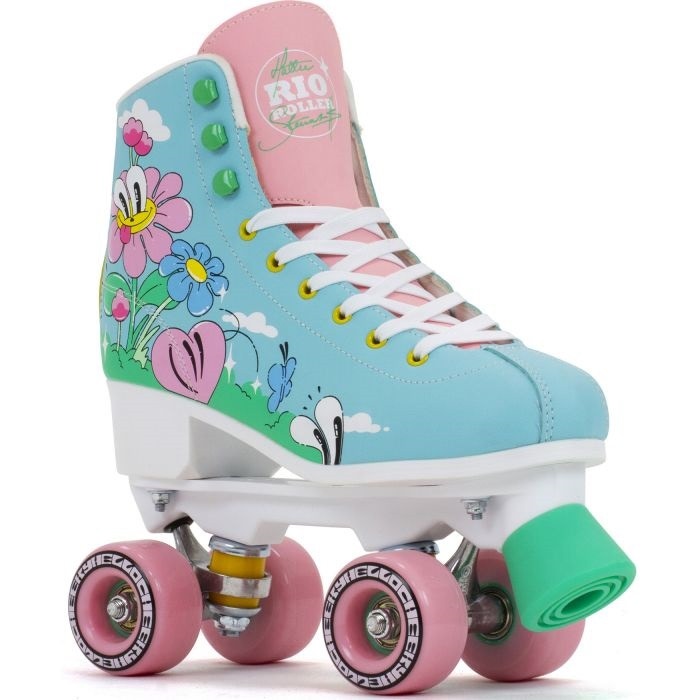 The Rio Roller Artist Series Quad Skates from Hattie offer the perfect mix of both a retro look as well as one that is incredibly cute. It's a pair that is incredibly vibrant, featuring a beautiful floral print, all designed by the talented artist, Hattie! She graduated in 2010 from Kingston University and has since put together an incredible portfolio, working with top creatives like Roman Coppola and for artists such as SZA, Ariana Grande and Kylie Minogue. Hattie's style is very tongue and cheek, bringing a unique style of art to the modern day world.
Click here to shop our full range of skates!