The NEW Blunt Envy Prodigy X Specs Guide
On November 1st we got to unbox the highly anticipated Blunt Envy Prodigy X, Park and Street Stunt Scooter series, with Harvey and Sophie. Since then, it's been one of the most popular scooters with a high demand to get hands (and feet) on this latest edition to the Blunt Envy family. So, what makes this stunt scooter so awesome? It follows on from a high benchmark, taking on the mantel from the extremely popular Blunt Prodigy S9, with all the high-quality craftsmanship and leading-edge design we can expect from a brand of this calibre.

---
Bigger & Better Decks
Both variants come with a concave deck to help with those landings and stability, while the Prodigy Street X is wider than its predecessor at 5.5 inches and 21 inches in length with an integrated head tube which is all lighter and stronger than previous designs, whilst keeping its signature diamond cut-out. As a street scooter, it retains its boxed ends, whilst being wider overall giving you the confidence to hit those tricks and land cleanly.
The Prodigy Park X deck has more material taken out of it to make it lighter, but with a new manufacturing process, its stronger than ever before. At 5 inches wide and 19.5 inches in length, including the new and improved tapered ends, this scooter has been built with the sole purpose of pushing the boundaries of what's possible. You'll be able to get more air for more flair. The headtube angle has also been adjusted to 83.5 degrees, giving it faster speeds and ease for bar spin tricks.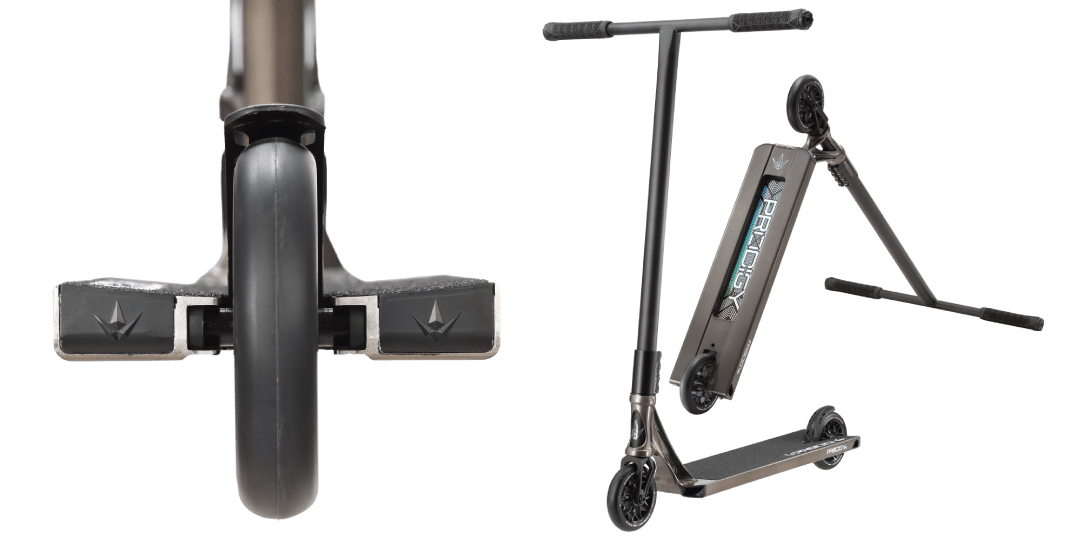 ---
Bars and Grips
Everyone loves the Blunt Envy grips because not only do they look awesome on any build, but a very durable, even for the most extreme rider. The Street X Bar comes in at 600mm wide by 620mm height, but what's more, Blunt have found a way to reduce the weight and material, but still making it one of their strongest bars yet, using steel chromoly to manufacture.
The Park X comes in at the same height of 620mm, but the width is slightly narrower at 560mm, meaning you'll have more space for those bar spins and whips.
---
Wheels & Forks
We've got new Sector wheels coming in at 26mm wide and 120mm height, being on the bigger scale of wheels, this will mean more speed and stability. As standard on both models, you'll be getting the best.
Wheel Durometer (Hardness): 86A
Axle Diameter: 8mm
Bearings: ABEC-9
The signature Diamond Threadless IHC fork makes a comeback for the Park X with the integrated compression and the Diamond Threadless SCS for the Street X. You'll find that the brake has been redesigned however with the Nylon Flex Fender, which will be harder wearing and capable of taking more force.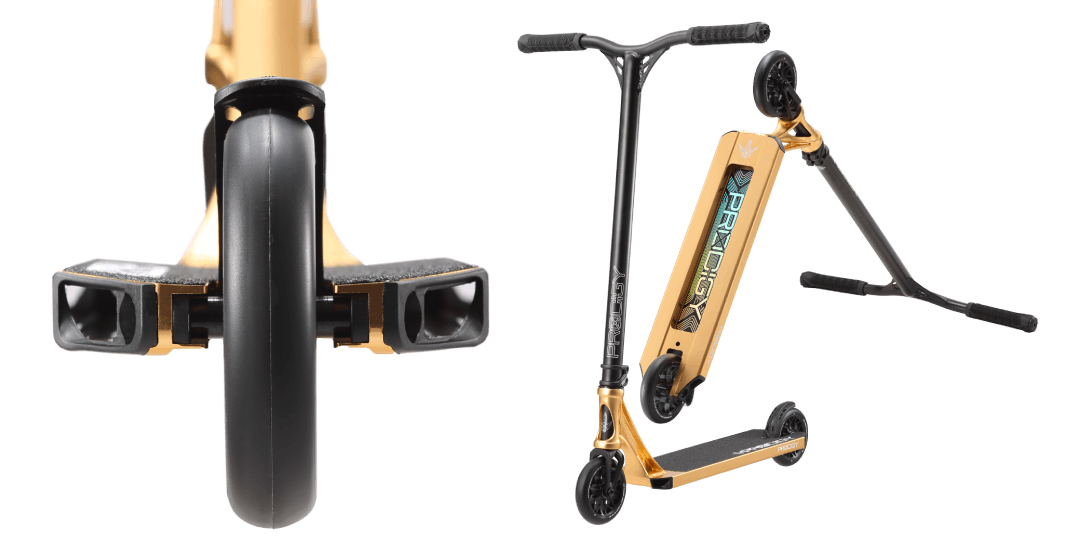 ---
Clamps
Now the Street X has had a serious upgrade to its collar clamp, which has been slimmed down, but is a four bolt rather than a 2 bolt, like its predecessor. This will give you confidence on those landings, allowing for more impact, while keeping the bar firmly in place. The Park X uses the classic 2-Bolt Z Collar Clamp for lighter weight and manoeuvrability
---
Colours and Decals
You can grab the Street X and Park X in a variety of colours to match your style:
Blunt Envy Prodigy Park X Colours:
Blunt Envy Prodigy Street X Colours:
They both come with the fresh new Prodigy X logo displayed proudly on the decks, so everyone will know you have the best of the best.

---
Everything about the Blunt Envy Prodigy X stunt scooters has been considered for the pro rider at all levels, whether it's pushing the limits of your skill to the next level or just simply riding in comfort and style, these stunt scooters are some of the best available right now. Don't forget to watch the unboxing videos with Harvey and Sophie in the SkateHut HQ store, based in Halesowen...