Deadbolt are a sleeping giant in the world of protection. Those who have tried their pads are passionate about them and will let nothing else grace their knees again. They have developed a cult following that continues to grow as more people discover their pads and hear about the legendary customer service they offer. Designed for Roller Derby skaters and following the success of the Jammer Elite and Blocker Elite pads Deadbolt launched the Grand Slam Knee Pad last year, adding in bright rainbow designs and some zebra stripes to the collection.
This is a brand that knows its audience and what is important to them, but more importantly- they take on feedback and are always working to create the perfect product. Grand Slams had a rocky launch when a fault was identified with the shape of the padding, this turned out to be a manufacturing fault but Deadbolt quickly rallied to get replacement padding out to all customers and immediately issued an apology. The response to the new padding was great, finally a knee pad made for derby skaters that concentrated on the important things- Comfort. Protection. Durability. It goes without saying that the customer service from Deadbolt has been impeccable from day one and its great to see a brand so involved in the Derby community.
Last year, I got my hands on a set of Grand Slams after pondering for too long about getting new pads and bruising my knees in the process. I was searching for a pad that offered a lot of protection but allowed for freedom of movement for both Derby and Ramp Skating. As an average skater, of average size and above average clumsiness it wasn't until I hurt my knees that I realised I fall over more than I thought...
Fast Forward 12 months and my Grand Slams are still going strong and have plenty of life left in them, to be honest with the exception of a few scratches they look brand new despite going through a very busy year of bouting and falling over at Skate Parks, needless to say I was interested to hear that Deadbolt had introduced an updated version following skater feedback (nice one Deadbolt!) Having skated in them for so long they have lasted well with no failing in the velcro or stretching and ripping of the material-most importantly, they do the job when I fell over and my knees remain thankful. The only issue I have is some twisting after a heavy fall and kneeling on them to stretch has always been quite difficult as they seem to rock a little.
Moving Forward
Last night, I took the new version for a spin and felt it was time to brighten up my kit with some RAINBOWS!

Everyone likes rainbows.
The first thing I noticed was that the profile is much lower yet the pad feels just as soft and cushiony as before. One of our skaters at Skate Hut once claimed that Deadbolts felt like 'Falling on clouds' and I'm inclined to agree with him, as an experiment I 'accidentally' fell over my own feet and if anything, felt more secure and supported in the new pads. With the previous model, it felt like there was some 'bedding in' time to begin with whilst the pad shaped to the knee, with this updated version, my knee fitted into it much better and felt like it was fully supported from the first roll.
The difference is noticeable, the top of the pad seems to have a more natural, snug fit and the cap now comes with a smaller logo so that you have more space to put your own design on the underneath. The overall length remains the same but the straps felt more secure around the calf.
The key improvement is that the pad no longer moves or twists after a fall and the sides of the knee feel more protected, probably because it now offers a more secure fit. I can also now kneel in them without feeling like the pad is moving underneath me or toppling over when I try to stretch after practice.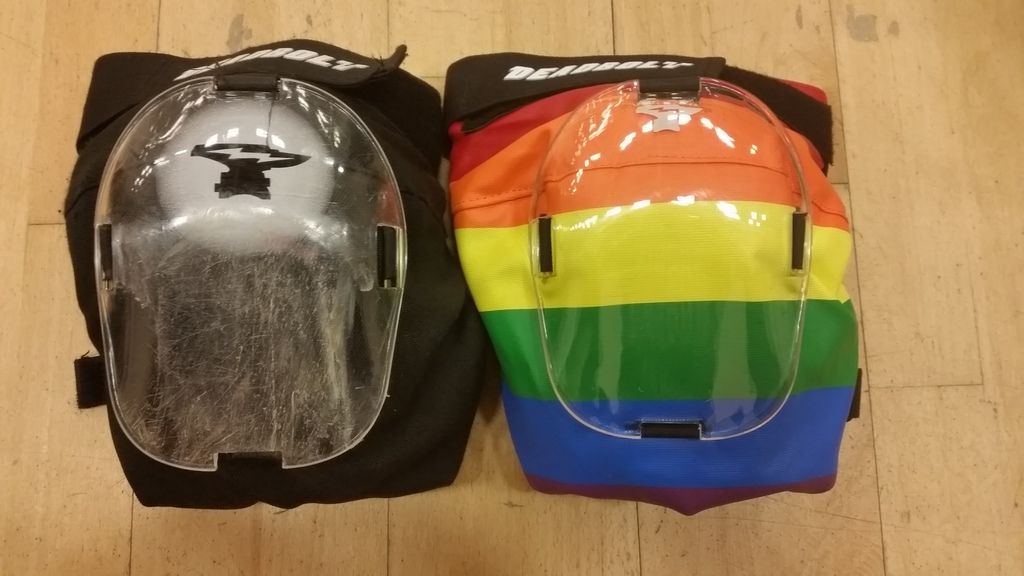 One of my favourite features is the fastening, both top and bottom have a traditional butterfly fastening but the top is secured with a thick wrap around strap and the bottom has a smaller adjustable strap, as most skaters struggle to find pads that fit well this allows for small adjustments to ensure that it stays in place but also remains comfortable. Following feedback from skaters, Deadbolt also improved the stitching in this model to make sure it lasts as long as possible.


With a hectic training schedule coming up, and a trip to Beach Brawl on the cards with Central City Rollergirls its fair to say that these couldnt have come at a better time! Whilst the original Grand Slams have served me well, the new ones seem even better!
Jelly Mean